Everything You Need to Know About Using Google Ads for Small Business
The Google Ads platform is a highly flexible digital marketing tool that, when used properly, can boost revenues, increase brand awareness, and provide essential audience insights and data for your small business.
While organic ranking is an important goal in any robust marketing strategy, it doesn't happen overnight. With Google Ads, your small business doesn't have to rely solely on the volatile and unpredictable process of organic ranking in order to drive customers to your website. 
And unlike traditional advertising channels, Google Ads lets you target your desired audience with precision and take total control of your advertising budget, and insights gained from performance tracking allow you to optimize every part of your campaign.
What are Google Ads?
Formerly Google AdWords, Google Ads encompasses advertisements across Google's three proprietary networks: search, display network, and YouTube. But for small businesses, search ads are often the best place to start.   
Google search ads are sponsored search results that appear above and below organic results on Google. These ads are served to users who search for targeted keywords that the advertiser is bidding on. Also known as PPC (pay per click), search ads essentially let you skip the line and jump to the top of the results page, where customers see your link before any others. 
A careful keyword strategy is at the heart of any successful PPC campaign. Conducting thorough keyword research will let you craft highly targeted ad copy that drives users to click on your ad. 
With PPC, you can also define your target audience based on demographics and behaviors. From age, gender, and location to time of day and what device they're searching on, you can get your ad in front of the right customers at precisely the right moments. 
Once you choose your keywords and targeting strategy, you set your budget. Google uses an auction system to determine which ads to serve and in which ad position. Just because you're bidding on a certain keyword doesn't mean your ad will appear every time. There are several factors that determine which ad will win the auction, and the process gives priority to relevant and effective ads rather than just the highest bidder. Google wants the best experience for their users, after all.
The Google Ads platform is easy to get started on, but creating a highly effective PPC strategy that drives profit can be challenging for small business owners who don't have the knowledge or the time to optimize their campaigns. Marketing experts are able to deliver higher ROIs much quicker than DIY campaigns. If you've got the budget, a Google Ads consultant can help drive the biggest return from your budget.
Do Google Ads Work for Small Business? 
Search engine marketing can be a powerful tool for small businesses, and there are many benefits to shifting your marketing budget to PPC. 
Boost brand visibility in a competitive industry

Only pay when someone clicks on the ad

Earn higher return on investment than other marketing channels

Gain critical customer insights to optimize campaign 
Small businesses that use Google Ads are able to compete in saturated markets, generate brand awareness, and connect with new customers at the right moments. PPC is most effective when used in conjunction with a strategy for organic web traffic, but sponsored search ads let you engage with your target market at any point in the sales funnel. 
Because you only pay when someone clicks on your ad, you can get the most out of your ad spend. Optimizing your keyword strategy, ad copy, and landing pages will help you drive more conversions and earn better returns on your ad spend. Plus, the better your ads are performing, the cheaper your CPC (cost per click) becomes. 
On average, Google Ads yield a 200 percent return on investment. So for every dollar you spend on your PPC campaign, you can earn $2.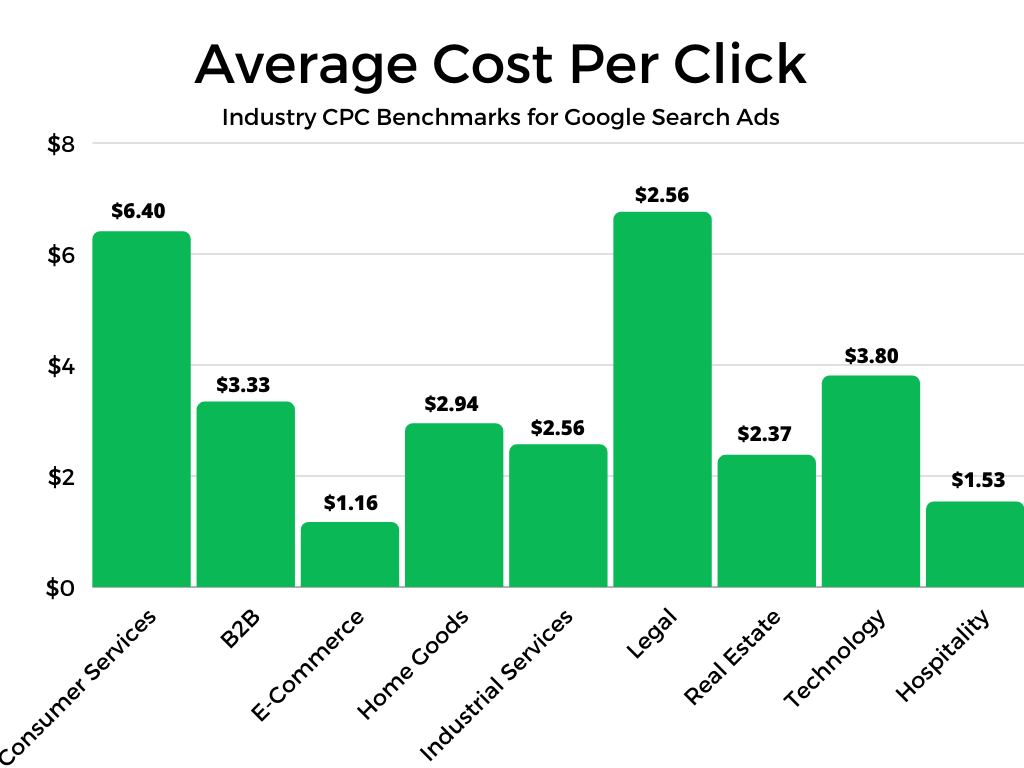 For small businesses, this means that you can make even small budgets work for you. And as your campaign performance improves, you can continue to scale your budget and grow your business.  
Using Google Analytics, you can track the performance of every ad, from the moment it's viewed by a customer right up to the moment they take an action on your site. This allows you to split test ad and landing page copy to determine what is working best and fine tune your campaign for best results. 
The data gleaned from your Google Ads campaigns can also provide valuable insights about customer behavior that can help you all of your marketing efforts. 
Small businesses in any industry could benefit from using Google Ads, but not every small business can or should be utilizing them. If you're wondering if Google Ads can work for your small business, it's important to consider a few things first.
What's your budget? Keyword research can tell you the average CPC for the keywords you want to target, and this will help you determine how far your budget can go. 
Do you have the time to run the campaign? Google Ads are not meant to be built and then forgotten. The best way to burn through your budget quickly is to leave your campaign on the back burner. If you or someone on your team can't take the time to track and optimize your ads, you should outsource the work.