The Complete Guide to Local SEO for Vancouver Small Businesses 
Optimizing your small business website for search engines is essential to compete in today's digital market. But for local businesses, being geographically reachable is especially important. In order to connect with your customers in and around Vancouver, you need to incorporate a local SEO strategy into your online marketing approach. 
Here we'll break down the importance of local SEO for your Vancouver small business and the key factors that will boost your local rankings. 
SEO vs. Local SEO – What's the Difference? 
SEO ('search engine optimization') refers to the general practice of optimizing your website to generate organic traffic from search engines, primarily Google.
Local SEO, on the other hand, is a ranking strategy that accounts for searches specific to a geographic location. These results appear as a local map pack at the top of a search results page when someone searches for a specific category or industry in their area. 
Searches like "coffee shops near me" will deliver results in a map pack showing all the businesses that match with that search, including the locations pinned on a map, along with relevant links and other data.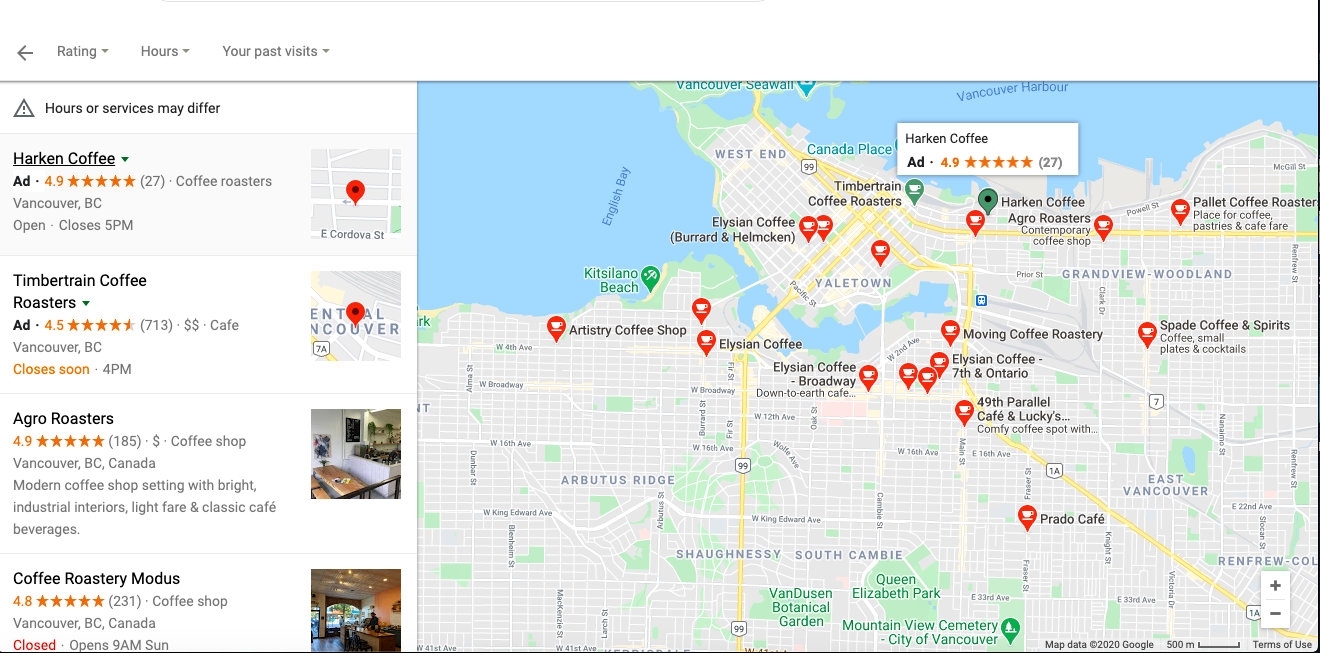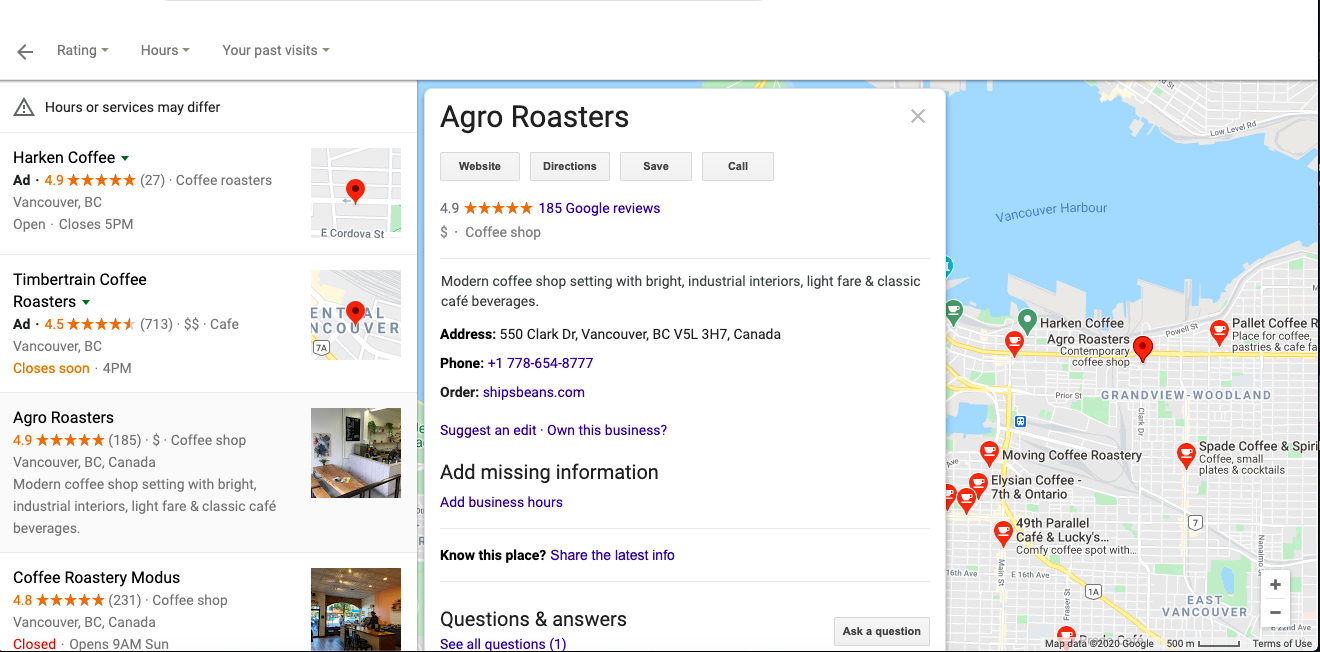 For example, if you own one of the thousands of coffee shops in Vancouver, how do you ensure that your cafe is appearing on local searches in your neighborhood? That's where a small business SEO strategy for Vancouver comes into play.
What are the Benefits of Local SEO for Small Businesses in Vancouver?
Driving face-to-face traffic for your small business in the age of Google requires a thorough local SEO strategy. Searches that include "near me" have increased more than 500% in recent years, and almost 30% of local searches result in a purchase.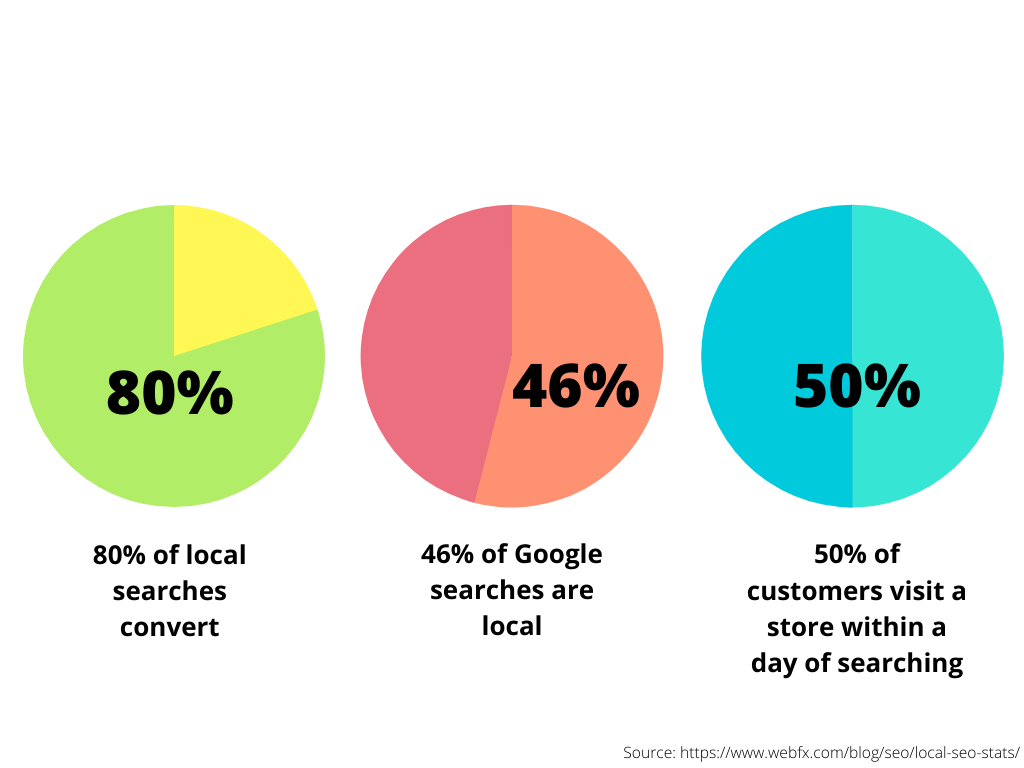 That means that if you aren't showing up on the local map pack for your industry or category, you're missing out on a lot of potential business. And there are so many industries that benefit from local SEO efforts, from doctors and lawyers to restaurants and cafes, making it an essential strategy for every small business. 
Top 8 Ranking Signals for Local SEO
Google's algorithm uses a variety of data to determine search results rankings. And while there's no precise formula to guarantee that your business ranks high, there are key ranking signals that can be optimized to improve your website's organic results. 
For local SEO, those signals are a bit different. We've broken down the eight most important ranking factors to help you improve your rankings in industry-specific searches in Vancouver. 
1. Your Google My Business Location
Of course, you can't appear in local searches if your business location isn't defined in Google. So in order to come up in the local map pack, you need to claim your location using Google My Business. It's a free and easy to use tool that will play a critical role in your overall digital marketing strategy. 
In addition to your location, you should also spend some time really optimizing all of the information on your Google My Business page. Providing comprehensive, consistent information will help Google determine if your business matches relevant searches in your area. 
2. Links 
Link building is one of the most important elements of SEO and local SEO. But it's also the most complicated and often the most time-consuming. 
In short, link building refers to earning inbound links to your website from external sources. These need to be credible, relevant websites that have some authority in your industry. There are many ways to earn these links for your local business, but they all take quite a bit of time and effort.
Think about link building in terms of networking. Building relationships in your community can go a long way. Find out if any of the many Vancouver newspapers run small business profiles and reach out. Search for any digital publications or bloggers in your industry that serve your area. 
Restaurants in Vancouver may want to reach out to tourismvancouver.com to see about getting their restaurant listed on the site.
If your budget allows, you might consider enlisting the help of an expert. A local SEO consultant in Vancouver will know the best paths to optimizing your local search results. 
3. Reviews
Customer reviews are an important component in any small business strategy, but they also play a key role in local SEO. If your business has mostly bad reviews, or even no reviews at all, you're much less likely to rank well in the local map pack, especially if your competitors have a high review score. 
Asking your customers to leave you reviews is an effective way to ensure that your Google My Business page is populated with positive ratings. And you should also take time to respond to any negative reviews and work to make it right. 
4. On-Page Signals
Another top factor in local SEO best practice, on-page signals come from the content and information that you have on your site that lets Google know what your business is all about. 
For local SEO, the most important part of this is your NAP (name, address, and phone number). Having your location and contact information clearly visible on your website is absolutely essential to ranking in local searches. 
5. Citations
Unfortunately, your own website and Google My Business listing are not the only sites you have to worry about. To optimize your local business in search results, you need to ensure that your business information is consistent and accurate across all websites where it may appear. 
This is generally listing and directory sites, like Yelp, Facebook, Dex, etc. But there are also often niche directory sites specific to your industry. For example, Angie's List and HomeAdvisor would be very important to plumbers or roofing contractors. Restaurants would do well to claim their TripAdvisor listing too. 
It's important that all this information is exactly the same across the board, so be sure to claim all of your business listings and update the information to be accurate and consistent. 
6. Behavioral Signals
Behavioral signals refer to the actions that people take when served with your business link on the Google results page. The more often people click-through to your website, click to call on mobile devices, or interact in any way with your link, the higher Google is likely to rank you. 
By optimizing your Google My Business information, these behavioral signals will naturally increase, resulting in a higher ranking for relevant local searches. 
7. Personalization
Google considers user data when matching search queries with local results, so this element is entirely out of your control. However, this is another factor that will be benefited by ensuring that your business information is as robust and accurate as possible. 
8. Social Signals
Customer engagement across social media platforms is an indirect factor of local SEO rankings. But keeping your social media sites current and posting regularly will signal to Google that your business is relevant and operational. While social media accounts for less than 3% of local SEO, it's still an important component in your small business marketing strategy overall. 
Vancouver is a large, international city and thus most small businesses will find themselves within a fairly saturated industry. By following these local SEO tips however, and engaging the help of a Vancouver local SEO consultant, businesses stand a strong chance of appearing towards the top of Google for local searches related to their industry.